A well-known fact about Californians is their love for shopping, characterized by diverse flea markets and shopping destinations scattered all over the state. However, the Rose Bowl Flea Market in Pasadena is by far the most visited and highly anticipated shopping event in the history of California.
Despite attracting more than 20,000 vintage shopping enthusiasts and 2500 vendors from all over the US monthly, the Rose Bowl Flea Market has been going strong for about 50 years since its establishment. Therefore, whether you are a first-time shopper or a frequent visitor, familiarizing yourself with insider shopping tips will help you get the most out of your time and prevent you from experiencing limitations.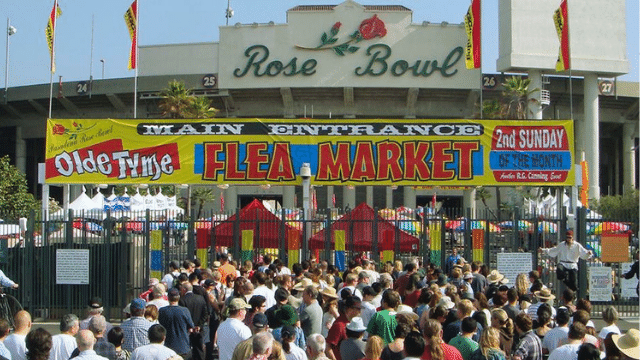 Location of the Rose Bowl Flea Market and Parking Availability
The Rose Bowl Flea Market is next to the iconic Rose Bowl Stadium at 1001 Rose Bowl Drive in Pasadena, California. The market is strategically placed to take advantage of the ample parking space offered by the stadium and its capacity to hold large groups of people and products. However, the friendly South California climate plays a critical role in its success since it allows people to visit the region all year round.
One common problem people encounter at the Rose Bowl Flea Market is finding a parking space that conveniently allows loading and transporting goods.
However, you can opt for a VIP parking space instead of the standard parking, which comes at an extra cost but secures the advantage of walking for a shorter distance. Subsequently, you can hire or set up a pick-up truck at a strategic position or ask your vendors for assistance with loading merchandise to maximize convenience.
Cost of Entry and Payment Solutions
Follow our guide to Rose Bowl Flea Market entry tickets cost and vendor payment solutions
Cost of Entry & Tickets
All children below 12 years can enter the Rose Bowl Flea Market for free as long as adults accompany them. However, the cost of entering the stadium varies according to arrival time. You can obtain entry tickets for $20 per person between 5 am and 9 am. and 9 am to 3 pm for $12.00 per person +VAT.
Please note:
Both Admission tickets are nonrefundable.
The event occurs rain or shine.
Masks are no longer required but are recommended.
Without Service animals No Pets are Allowed.
Where to Buy Tickets?
You can buy tickets online from Eventbrite.
Payment Solutions
Most vendors offer several payment solutions, but you can purchase entry tickets using cash only. Similarly, relying on payment solutions like credit cards is not advisable because most vendors provide fluctuating product prices depending on demand.
Moreover, you can easily access ATM vending machines around the stadium, but expect them to be packed, with higher charges than usual because everyone turns to ATMs for cash needs. Consequently, it would be best to carry a lot of cash.
Searching for Reliable Stalls and Vendors
Walking around the general zones and hoping to find what you are looking for is never advisable because it will waste time. As a result, it is better to use the color-coded maps provided during entry into the stadium as a reference to find specific lines of merchandise.
Additionally, navigating through the crowds can seem hectic if you do not know the exact place you are going. Therefore, make an effort to communicate to vendors who advertise their products on social media pages as they will guide you through the crowds to their exact location.
It would also help to look out for vendors who allow you to plan for pickup or delivery and offer discounts on multiple purchases for a worthwhile experience. All in all, remember to prepare comprehensively for the time you will spend, your budget, and everything you will need during your visit.
The Rose Bowl Flea Market offers one of the most spectacular shopping experiences because of its amazingly priced items and ability to get anything for your household or vintage business under one roof. However, poor preparation can lead to additional costs and disappointment.
Therefore, communicating with potential vendors or customers with similar interests and familiarizing yourself with the mistakes people commonly make will allow you to have a better trip and walk away smiling.
Visit for latest updates: Official Website, Instagram
Also Check: Rose Bowl Stadium: Everything You Need to Know