Ah, the Rose Bowl Flea Market! Dubbed the "Flea Market of the Stars", this iconic shopping event in Pasadena, California, is a must-visit for anyone looking for unique treasures, vintage finds, and a day of fun exploration.
Whether you're a first-timer or a seasoned thrifter, here's a comprehensive guide to navigating the Rose Bowl Flea Market like a pro.
The History Behind The Market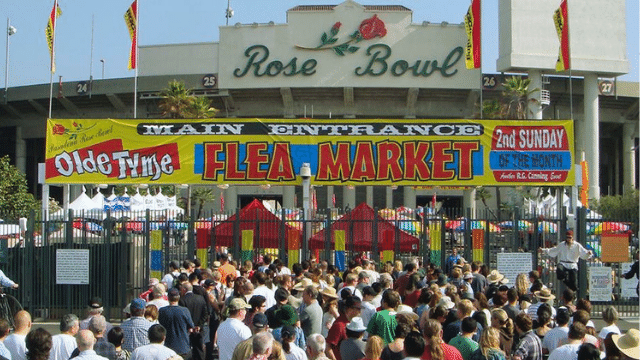 The Rose Bowl Flea Market started in 1969 and has since grown into one of the most famous flea markets in the world. Held every second Sunday of the month, this market boasts over 2,500 vendors and 20,000 buyers in a single day. Its location, the historic Rose Bowl stadium, adds an extra layer of charm to the experience.
What Can You Find?
From antiques to vintage clothing and custom furniture to handmade crafts, the Rose Bowl Flea Market is a treasure trove. Here are some categories to explore:
Antiques and Collectibles: Perfect for history buffs and collectors.
Vintage Clothing: Discover fashion from every era.
Handmade Art & Crafts: Unique pieces crafted by talented artisans.
Home Décor: From retro to modern, you'll find it all.
Plants and Garden Accessories: Bring some greenery into your life.
Tips for a Successful Visit
Arrive Early: The early bird gets the worm – and the best parking spot. Plus, many vendors start setting up as early as 5 a.m.
Wear Comfortable Shoes: The market spans over the 35-acre stadium, so expect a lot of walking.
Bring Cash: While many vendors now accept credit cards, it's always good to have cash on hand. Plus, you might snag a better deal with it.
Stay Hydrated and Protected: Bring water, wear sunscreen, and don a hat to shield yourself from the California sun.
Haggle Politely: Bargaining is part of the experience, but always be respectful. A friendly demeanor can get you a long way.
Rose Bowl Flea Market Admissions
Regular admission:
(Starts at 9:00 am for the general public.)
$12.00 per person online.
Children under 12 are admitted free with an adult.
VIP admission:
(From 5:00 am – 8:45 am)
$20.00 per person online.
Note: All admission tickets are purchased online only.
Parking
The Rose Bowl Flea Market offers free parking to its visitors. However, spaces fill up quickly, especially during peak hours. It's advisable to arrive early or consider alternative transportation.
Food & Refreshments
Worried about going hungry? Fear not! The market has a variety of food vendors, offering everything from classic American fare to international delicacies. Whether you want a quick snack or a hearty meal, there's something to satiate your appetite.
Take a Break
If shopping gets overwhelming, the flea market has designated rest areas. Recharge and then dive back into the sea of treasures.
The Rose Bowl Flea Market is more than just a shopping destination; it's an experience. Whether you come home with a car full of finds or just a few special items, the memories you make wandering the aisles, chatting with vendors, and soaking in the vibrant atmosphere will last a lifetime. So, mark your calendar for the next second Sunday and get ready for a shopping adventure like no other!
Happy treasure hunting!
Visit for latest updates: Official Website, Instagram
Also Check: Rose Bowl Stadium: Everything You Need to Know